In this article, we learn 10 free email marketing tools to grow your business. 
Email selling is actually a cheap and massive scale of client access and a few merchandises like credit cards, insurance, banking services, online news, e-commerce, etc have an enormous dependency on email selling.
Email Marketing
Email marketing uses to promote your business product and service and create customer loyalty. 
Email marketing is a form of marketing that aware customers of account discounts, new products, and other services but only to those who are in your email list. 
10 Free Email Marketing Tools To Grow Your  Business
Email marketing is effectively possible when businesses have good numbers of the email list, offer attractive incentives, follow the email marketing rules and regulations, contents should be unique, introduce email to the audience, and target audience, and have proper monitoring and take feedback on email effectiveness. 
1. Constant Contact email marketing
Constant Contact email marketing is a growing email marketing service in the world and it is easy to use and friendly for beginners.
Small business owners can easily manage their email lists, email templates, and marketing calendar and each account give access to unlimited emails, easy tracking, and reporting, built-in social media sharing tools, a free image library, list segmentation, Facebook ads integration, and solid e-commerce integration for Shopify stores. 
2. Campaigner email marketing
Campaigner email marketing services offer an engaging customer journey with an automation workflow builder. 
Campaigner is one of the most powerful and efficient email and SMS marketing automation platforms that help businesses to create powerful personal connections with their customers.
3. Mailchimp email marketing
Mailchimp is an American company, that was founded in 2001 by Ben Chestnut and Mark Armstrong in Amer.
Mailchimp offers a marketing automation platform and email marketing services.
Mailchimp is the trade name of its operator Rocket science group. 
4. SendinBlue email marketing 
SendinBlue email marketing is a true SMS and email marketing software for businesses and it has one of the fastest-growing email marketing platforms in Europe.
It is a unique tool to create beautiful and highly engaging emails with an easy-to-use background. 
Small business owners can easily use these tools to boost their business and it requires no experience and simply drag and drop email editors. 
5) Drip email marketing
Drip email marketing is a solid enterprise email marketing platform for e-commerce, bloggers, and digital marketers. 
Drip offers a wide range of tools to make marketing automation, sales funnels, and personalization easy. 
Drip offers support options like live chat support, webinars, automation training, detailed courses, free guides, and excellent documentation. 
6. ConvertKit Email Marketing
ConvertKit email marketing is the most suitable design for email marketing creators and helps you grow and monetize your audience easily. 
ConvertKit is powerful in building your relationship with your followers and building your business brand value.
ConvertKit email marketing has some free plans and some are premium paid plans. 
ConvertKit will help you grow your audience, automate your marketing and sell your digital products. 
7. GetResponse email marketing
GetResponse email marketing is a very useful tool for small businesses and is easy to use and simplifies email marketing for small businesses. 
GetResponse has some amazing marketing automation tools which allow business owners to create smart automated campaigns.
8. SMTP email marketing
SMTP email marketing services supercharge your business email marketing and SMTP superior delivery rates, speed of sending, and system reliability and offer proactive email list validation solutions. 
SMTP gets your emails in front of your target audience's eyes.
SMTP will give a high pace to your email campaigns, and transactional emails.
9.  AWeber email marketing 
AWeber email marketing is one of the simplest, oldest, and most popular email marketing service providers in the world and offers a huge range of tools for small and medium-sized businesses to manage their email marketing.
10. Mailerlite email marketing
Mailerlite email marketing is a marketing tool that offers more advanced features like artificial intelligence and attentive customer service. 
Mailerlite is friendly to use and easily integrates with WordPress, Shopify, PayPal, Zapier, Stripe, and others. 
Mailerlite offer to create advanced email marketing campaigns with features like automation, landing pages, and surveys. 
Mailerlite offers free access to premium features with a 30-day trial. 
Digital Marketing Importance For Small Business
In this post, I have shared 1o digital marketing practices that can grow your small business and make it more effective and productive.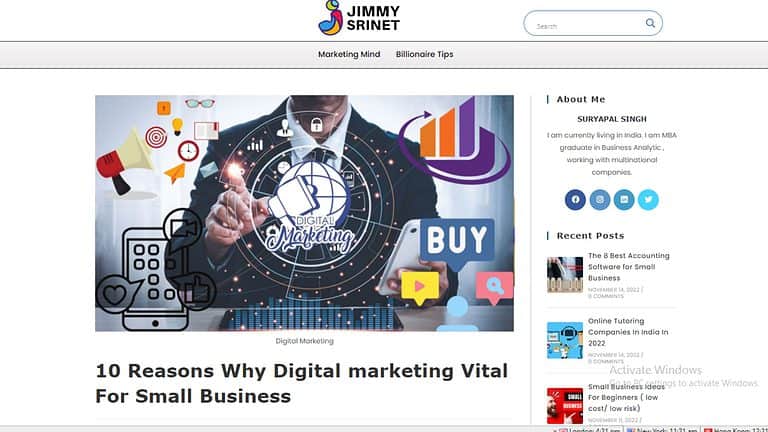 Why Email Marketing For Business? 
Email marketing is the most powerful tool that can help you in achieving your customer reach and educate customers about your products and services. 
Email marketing can help in your business brand building, creating customer loyalty, and making you aware of new products and services.