In this article, we explore 9 Reasons Behind Anchor By Panasonic Success In India.
Anchor is India's well-known brand and father of piano switches and the market leader in switches and sockets. 
The company was founded in 1963, by two brothers Jadhavji Shah and Damji Shah by invested in India's First Piano switch.
The company is the market leader in electrical switches because of its commitment to quality. 
Panasonic acquired Anchor, the 50-year-old Indian family-owned electrical equipment brand, in 2007, and now Anchor by Panasonic. 
Anchor is the world's largest manufacturer of wiring devices and applied products. 
9 Reasons Behind Anchor By Panasonic Switch Success In India
Anchor has strong brand values, high-quality products, world-class manufacturing techniques, and strong channel partners. 
Now the company has the Piano switch, Anchor Penta, Penta Modular, Roma, and home automation by Panasonic. 
Anchor is a very familiar name in households and the company has wide and strong channel networks.  
These are 9 key factors strongly contributing to Anchor Switch's success. 
1) Long Lasting Product 
Anchor never compromises on product quality and offers a wide range of choices at affordable prices.
Anchor products are long-lasting and we find them in every house either small or big the company is the most trusted serving products after sales or during maintenance. 
Anchor switches are long-lasting attractive in design and easy to operate. 
Anchor product's customer reviews are always high and the company has a huge satisfied customer base because of value-based products to suit diversified installation needs. 
2) Strong Channel Network 
Anchor has a depth of experience in channel management and working with channels that give the company competitive advantages and build strong relationships with partners.
Anchor strongly believes in building a win-win relationship with its channel partners and helping its channel in all possible ways. 
Anchor is always ready to do all types of activities that can grow the retailer's business like electrician meet, free gifting, product training, and many more. 
3) Affordable Price Structure 
Anchor product's price structure is much better compared to competitors' offer prices which helps the customer in anchor product selection. 
Anchor is very serious about the price of its products and always works to give a great product at a low cost that anchor strategy differs from competitors. 
The company services all types of customers and targets every customer that focuses the company on cost-effective products.
4) Creating Business Opportunities 
Anchor always creates business opportunities through its channel extension programs, taping untapped geographical locations,s and introducing new products. 
Anchor has a huge market experience and network for channels that are older than a decade.
You can work as a dealer, distributor, or retailer and grow your business with this global brand. 
Anchor switches like Piano, Anchor Penta, Wood, Roma, and next-generation switches are available in every geographical location. 
5) Building Trust and Loyalty 
The company has trust and loyal customers who ask for Anchor products and do not switch to other brands.
The company is India's oldest in switch manufacturing and the company's competitive advantage is to keep increasing channels reach and serving their customers in the best possible ways. 
Anchor has spent a long time building trust and loyalty among stakeholders through sustainable innovation and continuous improvement.
Building trust and loyalty requires long-term relationships and continuous improvement.
6) Protecting Small Retailers 
Anchor sales team never ever avoids any retailers either big or small and treating all of them equally is the Anchor winning strategy. 
Offer discounts, coupons, and monthly, quarterly, and annual schemes to their channel partners. 
Anchor is very serious about its small retailers that are serving across India and its different remote areas. 
Anchor by Panasonic has a wide range of products like Switches and sockets, home appliances, solar, modular kitchen, Wires and cables, lighting, switchgear, Fans, and accessories that differentiate Anchor from its competitors. 
7) Strong Bonding With Stakeholders 
Anchor is strongly connected with its stakeholders like retailers, electricians, and customers through time-to-time product awareness programs, meetings, and interactive sessions. 
Anchor has a clear mindset in the market to stay connected with partners, understand their problems, and make cost-effective products that can answer the customers' concerns. 
Anchor has a huge number of satisfied long-term channel partners who have been working for decades. 
The company has long experience in electrical product manufacturing and serving partners that created a strong bond with stakeholders. 
8) Catering A Range Of Products 
Anchor by Panasonic is catering to a wide range of products that are beneficial in targeting customers and attracting customers. 
The company has strong market value, stakeholders' trust, and reach to every region of India. 
Range Caters 
Switches and wiring devices
Wires and cables
Switchgear and protection
Energy meters
Fans
Lighting and luminaries
Anchor covers all electrical ranges and offers all electrical solutions under one roof. 
Anchor Switches and sockets, home appliances, solar, modular kitchen, Wires and cables, lighting, switchgear, Fans, and accessories. 
Anchor has a competitive advantage in catering to a range of products and winning the market competition. 
9) World Class Manufacturing Facilities 
Anchor is a technology-centric focus, employing the best machinery from the finest European companies from Germany, Finland, and Switzerland to manufacture high-quality products. 
Anchor in India has virtually every international recognition be it the CE certification, IEC conformity, or ISI 9000 certification, a testimonial to the fact that every product Anchor has made confirms and exceeds international standards.
Social Responsibility 
Anchor's social responsibility is not limited to protecting the health and safety of peoples but also uplifting the communities where the company operate. 
Damjibhai Anchorwala's Suggestion to New Entrepreneurs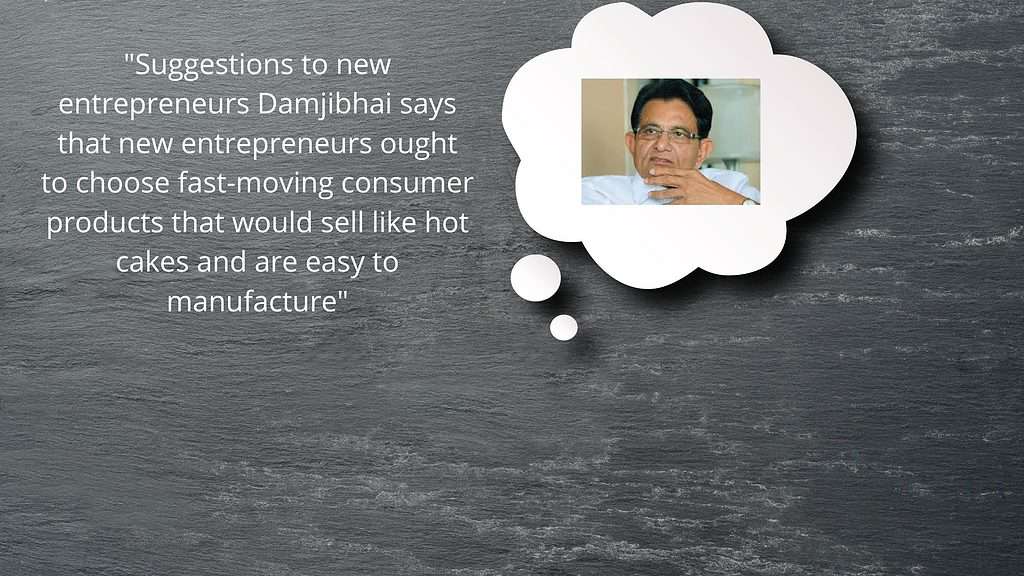 Suggestions to new entrepreneurs Damjibhai says that new entrepreneurs ought to choose fast-moving consumer products that would sell like hotcakes and are easy to manufacture. Also, these products should be such that consumers would like to see or use them. 
Damjibhai shared the opinion of opting for businesses that require small investments because the new entrepreneur can not make a huge investment in land, machines, manpower, and other structural development. 
Wrapping Up
Anchor by Panasonic has a worldwide presence and the company caters to wiring accessories, traditional switches and sockets, and next-generation switches. 
Damjibhai Anchorwala is the only industrialist in the country whose name his product's name was associated.
Anchor products are very high in quality and value-based products that serve all types of electrical wiring needs. 
The company employs the world's best machinery from European countries that are equipped with world-class technology and automation. 
Anchor has wide global and national dealer, distributor, and retailer networks that serve remote villages. 
Anchor products are affordable and suit all types of customers' requirements. 
Sustainable innovation, zero-defect production, and cost-effective products with strong channels are empowering Anchor every day.