How Google My Business Drives Customer Engagement On Google, this article will explore benefits and more.
Google My Business (GMB) is a free tool offered by Google that allows small business owners to manage their online presence across Google, including Search and Google Maps.
Google My Business benefits small businesses very much and small businesses are using it and benefiting a lot.
Google my business
Google My Business is a free platform by Google to support small businesses in their online presence and acquire a customer base.
Google My Business launched in 2014, was developed and managed by Google Inc.
By creating a Google My Business listing, small businesses can ensure that accurate and up-to-date information about their company, such as their address, phone number, and hours of operation appears in search results and on Google Maps.
This can make it easier for customers to find and contact your business and increase your business reach.
How Google My Business Drive Customer Engagement On Google
Here we have shared Google My Business benefits to small businesses and how businesses can use it to grow their market reach, build their brand, and market reputation, acquire more customers, and grow online.
1. Enhanced Business Visibility
Google My Business listing can help small businesses appear higher in search results and on Google Maps, making it more likely that potential customers will find and visit the business.
2. Improved Online Reputation
Google My Business allows small businesses to manage their online reviews, respond to customer feedback, and showcase photos and videos of their products or services.
This can help build trust with potential customers and improve a business's online reputation.
3. Insights into Business
Google My Business provides insights such as how many people found your business through a search and how many people click on your website link.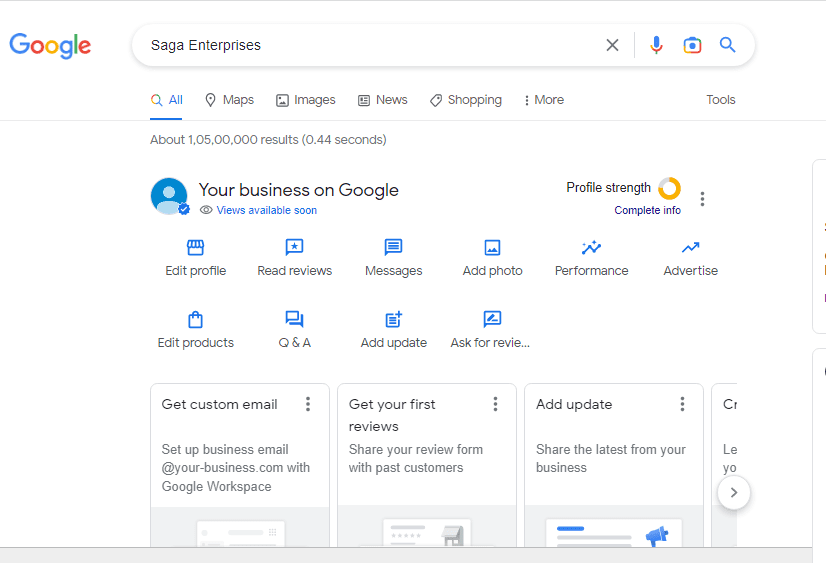 This can help small businesses understand how people search for them and plan their marketing strategy.
4. Direct Customer Connectivity
GMB allows small businesses to communicate with customers directly through the platform, which can help with customer engagement, nurturing, and retaining customers over time.
5. Enhanced Local SEO
Google My Business provides accurate, detailed information about your business on Google, you can help improve your search engine rankings for local search terms, making it more likely that customers in your area will find your business when searching for relevant products or services.
6. Free Advertisement Opportunities
Google My Business can be used to add information like photos, menus, and services, and let users leave reviews and ratings that can help to improve SEO for your business.
Your business will show in Google search results and people will keep noticing your presence in the market which boosts your business performance.
7. Increased Business and Website Traffic
Google My Business is capable of increasing footfall in your store as well as traffic to your website.
Your business digital presence will keep rising which can help to grow your business revenue and overall business growth.
Overall, Google My Business is a powerful tool that can help small businesses increase visibility, improve their online reputation, and connect with customers in their local area.
Why Businesses Opt for Google My Business
Google My Business helps businesses to show up in the map pack, which is the 3 local businesses that appear on the top of Google Maps searches.
This allows customers to see their business information such as phone number, address, photos, reviews, ratings, etc.
Google My Business will help owners create their digital presence and increase their reach.