India has set the highest startup in the past couple of years and the Indian government is helping new entrepreneurs.
Starting a business is now much easy and with the support of world-class brands with minimum investment. 
Here I am sharing the top 8 franchise business opportunities that can fulfill your entrepreneurial dream. 
You can start your business with these experiences, market leaders, and growing brands.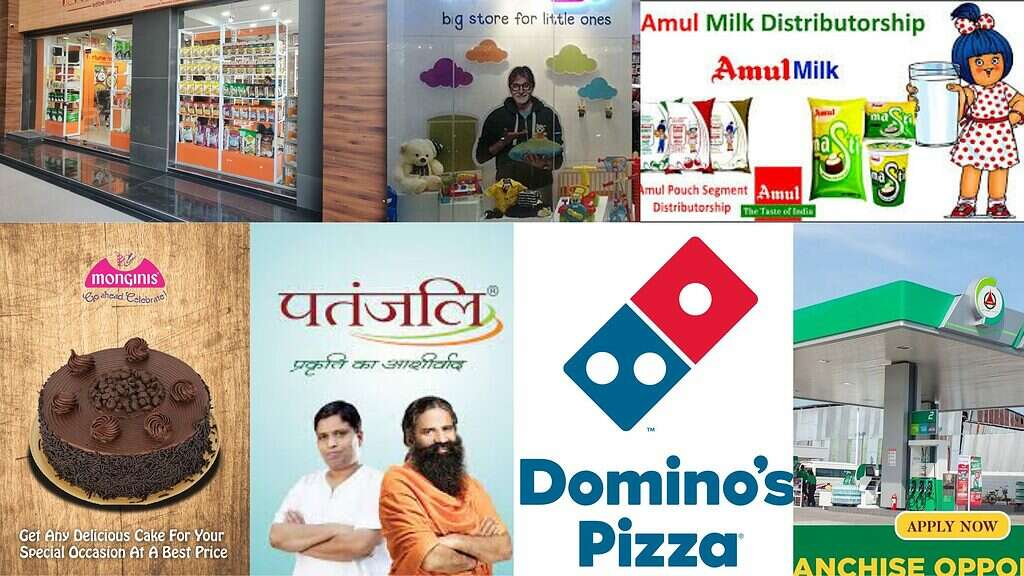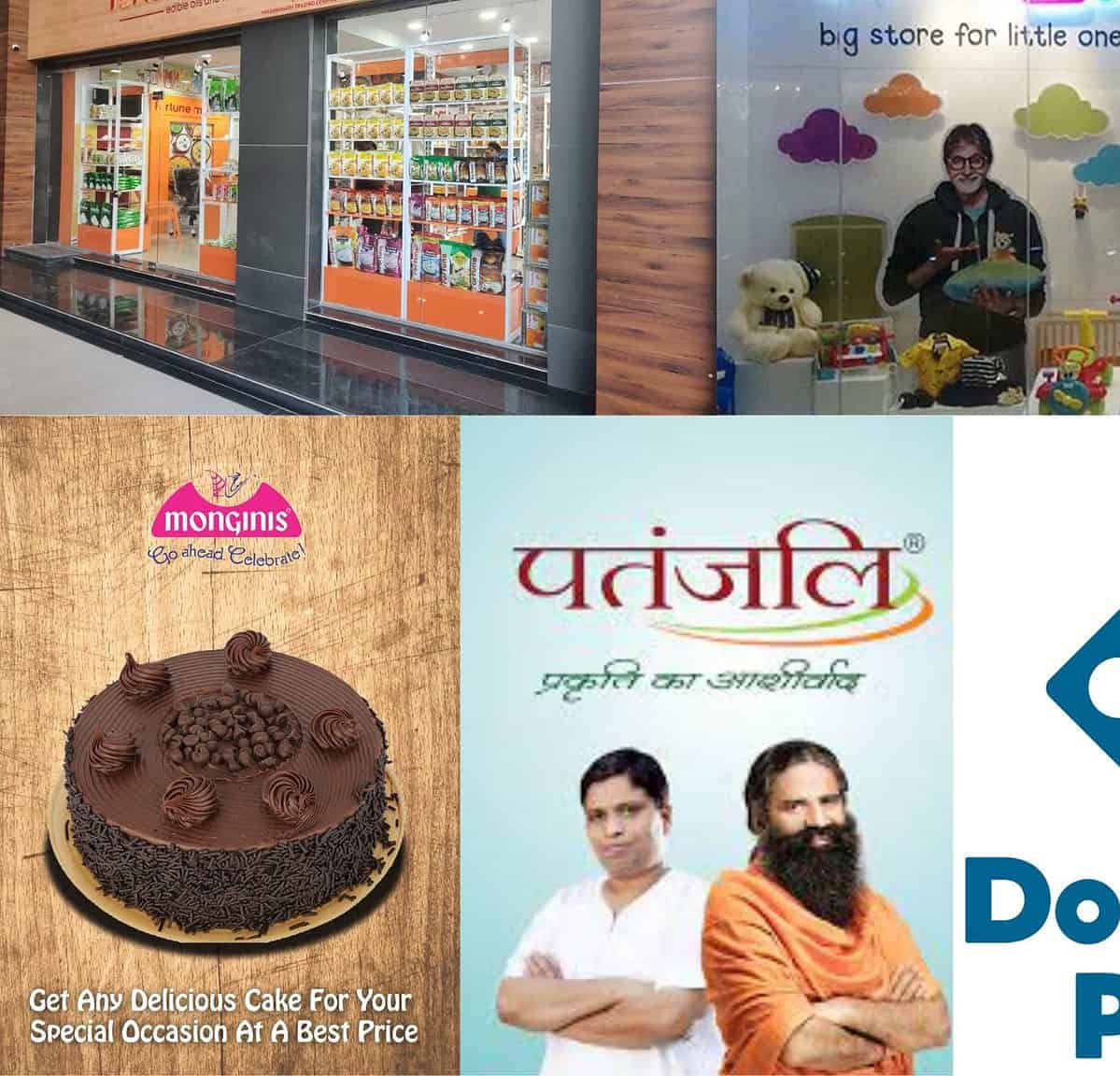 Adani Wilmar Fortune Mart is a promising and attractive opportunity in India with minimum investment and maximum company support. 
Adani is India's top brand with the fastest-growing FMCG division and fortune edible oil has immense market popularity. 
Fortune mart supports partners in staff salary, monthly rent support, free live bakery setup, and direct material supply from the company warehouse to Fortune Mart. 
Fortune Mart caters to all types of edible oil, a variety of pulses, ready-to-eat khichdi, and personal care products. 
2. First Cry
With a footprint of 400+ physical stores across 215 cities, FirstCry.Com is India's largest omnichannel brand for baby & kids products with a portfolio of over 2,00,000+ products across 2,000+ brands.
 Backed by industry stalwarts like Mr. Ratan Tata and Mr. Anand Mahindra to name a few, FirstCry.Com has cemented its place as the undisputed leader in the baby and kids industry.
Requirement 
 Tier 1 & 2 Cities
Minimum 2000 Sq. Ft. carpet area of a Retail Space depending on the City/Locality/Potential. (Leased/Owned)
Total Minimum Investment of INR 85 – 90 Lac. Appx. (For 2000 Sq. Ft. including Interiors & Stock Value)
Tier 3, 4 & 5 Cities
Minimum 1500 Sq. Ft. carpet area of a Retail Space depending on the City/Locality/Potential. (Leased/Owned)
Total Minimum Investment of INR 55 – 60 Lac. Appx. (For 1500 Sq. Ft. including Interiors & Stock Value)
Key Franchise Facts
ZERO Franchisee Fee / ZERO Revenue Sharing / ZERO Monthly Royalty
Appx. Investment in Interiors @ Rs.1400 / Sq. Ft. (On Actuals)
Minimum Initial Stock Value: Rs.60L  in Tier 1 & 2 cities AND Rs.40L in Tier 3,4 & 5 cities.
Miscellaneous Expenses – 2 Lac (First Stock Transportation, Architect Fee & P.O.S)
Cash & Carry Format (Outright Purchase)
Franchise Owned / Franchise Operated
Average Gross Margin of 35% – 37% on Net Sales
Expected R.O.I of 30%-36% Per Annum
3. Nexgen Energia Ltd 
Nexgen Energia Ltd's flagship brand "NX 100 " is a revolutionary and one of the most advanced fuels in the world matching both International standards & Government of India norms.
It is a premium high-quality clean fuel that is an alternative to conventional CNG with low emissions and is suitable for both Indian & International diesel engines.
The company is involved in producing, processing & selling CBG(CNG) and the company has a great market reputation across the world. 
The company is inviting entrepreneurs to apply to get evaluated to start a CBG pump.
Business Benefits
Better Margin
Branding & Marketing
Structured Operations
Approved Vendors
Quality Machinery
ISO Certified Company
This business is an ideal choice for entrepreneurs who are looking for a business with good returns, growing demand & low risk. 
NX100 CBG the pump business is a recession-free business with quality products & company support.
4. Domino 
Domino is an American multinational Pizza restaurant chain founded in 1960. 
Domino has a strong business in India and the company keeps growing in the Indian market through the quality of its products, new product development, and market search. 
You can start your entrepreneurial journey with this global pizza restaurant chain and build your market reach.
Domino's success has come from its franchise business model and Domino franchise management school empowerment to interested individuals to operate multiple stores and supervision stores. 
Types of Domino franchise offer
Traditional stores
Non- traditional store 
The transitional store 
The Domino's franchise costs a traditional pizza outlet around 50 lacs INR in India.
A non-traditional outlet might cost the amount of 30 lacs INR to set up.
Basics for opening a Domino franchise in India 
Location 
Infrastructure
Workforce 
Delivery people 
5. Amul Parlour 
Amul is India's Top brand in the milk segment and the company has a strong presence in all regions in India. 
Amul Parlour outlet caters to all products of Amul like milk, Icecream, butter bread, cheese paper, Curd, Amul butter, and many more. 
Amul has strong brand positioning in the customer's mind and the brand has the potential to pull the customers.
6. Patanjali 
Patanjali Ayurvedic is India's market leader in the FMCG segment and the company has a pan-India presence. 
Patanjali Mega store investment is around 1 Crore but the company has a huge range of products.  
A refundable deposit of Rs. 5 Lakh is to be deposited (2.5 Lakh in the name of Divya Pharmacy and 2.5 Lakh in the name of Patanjali Ayurved Ltd., Haridwar) in the form of a demand draft.
You can go to the company website and learn more about the required infrastructure and other things.
7. Monginis Cake 
Monginis Cake is India's growing pastry and bakery chain store, a company headquartered in Mumbai Maharastra.
The company has 1000-plus stores across India and Egypt. 
The company was founded in 1956 and employed 1500 employees.
The company has great market value and takes care of its channel partners.
You can start your entrepreneurial journey with Monginis and build your business empire. 
8. Apollo Pharmacy 
Apollo Pharmacy is among India's largest store chains of pharmacies and medical stores.
Apollo Pharmacy store list has 3500 stores across 400 towns, cities, and metros all over India. 
Apollo Pharmacy, the Minimum area for an Apollo store is 4000 square feet. 
Master franchise store investment 10-15 lacs and single-unit franchise store investment 5-10 lacs.
License and franchise documentation fees are around 24K and 2 to 3-person staff engagement.  
Wrapping Up
Adani, Mahindra, Tata, Domino, Patanjali, Monginis, Amul, Apollo Pharmacy, and Nexgen Energia Ltd are helping new entrepreneurs through rental support, training of staff, credit support, marketing and promotional support for the growth of channel partners. 
You need to properly research before investing and know your risk-taking capacity.
Start with a minimum and try to understand more about the business process and building the business.