Remote or work-from-home culture is very much in practice even companies like Google, Apple, and Facebook are interested to keep going on for a better work-life balance. 
Now increasing numbers of working women resign from existing jobs and look to work from home jobs or start their businesses. 
Mompreneur
Mompreneur is a woman or female business owner who actively balances the roles of a mother and an entrepreneur.
Mompreneur terms were introduced in 1994 and now growing mompreneurs throughout the world. 
Reasons Behinds Looking To Start Your Business As Stay Home 
Flexible Working Hours: Reasons behind looking to start a business as stay home to enjoy the flexible working schedules and easy to create work-life balance. 
Generate Passive Income: Passive income is never insufficient for anybody and if a mom generates passive income that will be a bonus to running the family.
The covid-19 pandemic has given a lesson to everyone that there should be multiple income sources in the family. 
Financially Independent: Women will be more financially independent by running a business.
Nowadays financial freedom is vital for everyone to reduce mental pressure and live a happy life. 
Home-Based Business Ideas For Moms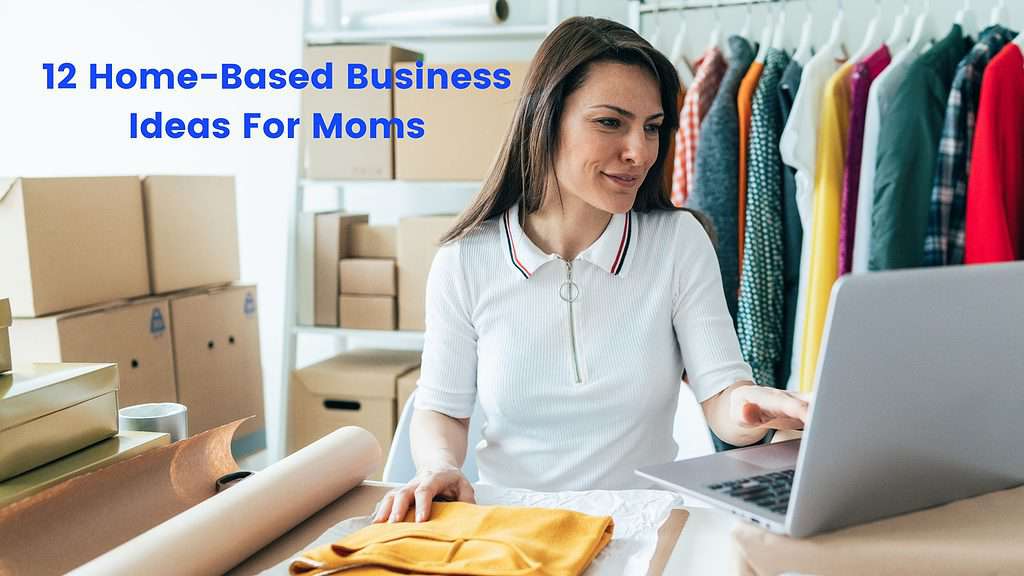 Here I have shared many business ideas that are suitable for moms and these are businesses that can be started with minimum investment. 
1. Bake For Sales 
Bake businesses are growing throughout the world and it can start with minimum investment. 
Bake business through online or physical stores is one of the perfect businesses for women. 
It takes a small place if you are going to a physical store and getting some training through youtube professional bakers.
2. Gift Solution Business 
A gift solution business is a low-cost investment business but such businesses need creativity and your inner talent.
You must think out of the box that can attract the audience and grow your business within a very short period. 
You can start a gift solution business from home and sell it online and through a physical store. 
3. Home-Made Pickle Selling 
Home-made pickle is much in demand and everyone want to taste really pickle.
You can start your homemade pickle-selling business with minimum investment and sell it from your home. 
4. Selling Over Social Media
Selling products such as sarees, suits, and other female accessories through Facebook, WhatsApp, Pinterest, and other social media channels.
You can start with minimum investment by agreement with saree stores.
Live demo over social media channels, in this process you need to grow your audience.
One thing always noted nothing is impossible but you have to start first. 
5. Freelance Writing Business 
If you are good at writing, comfortable in acquiring pieces of knowledge and exploring new things through your creative writing there will be always a huge opportunity for you in the freelance writing business. 
In this business writing skills are required and if you are not good with your interest in writing then you can learn from different online sources. 
6. Proofreading Business 
Proofreading is the final step in the editorial cycle before publication and if you are good at grammar, spelling, and punctuation, then huge opportunities in the proofreading business.
You can start this business from your home and earn money. 
The proofreading business will grow slowly and requires your consistency.
Online tutoring for kids will be a low-cost business idea but it requires knowledge and your creative presentation online. 
You can quickly grow your business from your home and earn a handsome amount every month. 
You need to do some marketing of your business online and offline too so that people will be aware of your profession. 
8. Cooking Classes 
Cooking Classes are a unique business opportunity but in this business, you must be knowledgeable in cooking. 
You can start this business online and grow your business. 
Your cooking knowledge and presentation skills will count much in acquiring an audience. 
9. Beauty & Fitness Expert 
Beauty and fitness expert is another unique business idea and you can show your knowledge and skills to build your audience and generate income. 
Beauty and fitness expert is a low-cost business but earning is huge, it depends on your consistency and acquiring audience. 
10. Selling Your Creativity 
Selling your creativity in any field can be a big opportunity for you and you can build a big business with the power of your creativity. 
It does not require any investment but your talent and creativity count much in building such a business. 
11. Website Designing 
Website designing business is growing dramatically and every business owner is looking for online. 
You can start from your home and build your business reach through your marketing and services.
Low costs business but requires knowledge, skills, and creativity.
12. Online Store 
Online store business is growing every day, but you need to decide your target audience, selection of products, and structure of your business. 
You can start from home and grow it through your marketing and promotional skills. 
Many websites are offering you stores like Shopify, Meesho, and others. 
What Business You Are Comfortable to Start While Stay Home 
Many businesses you can start while staying at your home and growing online, interacting with customers, and doing all the promotion of business.
You must measure your capabilities, resources, spare time, and skills to select a business as per your comfort. 
As we have shared, all businesses can be controlled and operated from home.
Selection of business depends on your area of interest, experience, skills, expertise, and time. 
Most Profit-Making Businesses 
As a profit concern, every business has huge potential and good profit, need to do is acquire customers and stay connected with them and keep growing your turnover. 
You grow your business through consistency, acquiring knowledge, understanding your audience's needs, building communication, and serving in the best possible way. 
Profit is a secondary part of business, the first part is your interest in business, consistency, and visualization.